Located in the heart of Oneroa village
[ s p a c e ] contemporary art gallery is a collective of eight well established Waiheke Island artists.
With 4 distinct exhibition areas,
[ s p a c e ] welcomes you in a well-lit and uncluttered gallery where you will enjoy browsing
our exclusive collection of abstract and figurative paintings, original sculptures,
elegant ceramics, bronzes, jewelry and drawings, 
indoor and outdoor art from delicate small figurines to monumental works. 
Established in 2013, [ s p a c e ] art gallery is a collective of 8 local Waiheke artists.
When visiting the gallery you are likely to be greeted by one of our artists.
Paul Radford, painter and sculptor, Mary Ferguson, painter, Jay Lloyd, sculptor and Maria Lloyd,  sculptor,
Katie Trinkle Legge, painter, Kiya Nancarrow, ceramicist, sculptor and Olivier Duhamel, digital sculptor, and Jenny Mason, jeweler.
We all take turn at the gallery and you are always welcomed by one of the artists who shall be very happy to tell you more about their practice, career, techniques and inspiration.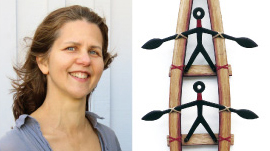 I am fascinated by ancient civilisations, their cultures and how they created ceremonial art forms and objetcs to distinguish Themselves and document their histories. By Unravelling their mysteries we inevitably learn more about ourselves.
Read More »
Take a 3D virtual tour of  [ s p a c e ] gallery  (as of July 2020)
[ s p a c e ] is on Waiheke island.